Jonathan Diersing
Jonathan Diersing is an entrepreneur who created Rounderbum, a clothing company producing padded underwear and muscle shirts. Diersing appeared on Season 9 Episode 18 of Shark Tank. He sought a $150k investment for a 10% stake in Rounderbum, and ended up accepting an offer from Kevin O'Leary for a $150k investment for a 5% stake, plus a royalty of $2 per unit until $300k is paid back.
Before Shark Tank
Diersing did not always envision himself an entrepreneur. Diersing had studied neuroscience at USC with the intention of becoming a doctor. His initial interest in medicine was motivated by seeing his mom's ordeals with multiple sclerosis. However, he later moved away from a medical career track and began working in a series of sales jobs.1
In 2015, Diersing launched Rounderbum, selling only online. In the last 12 months before appearing on the show, Rounderbum achieved $700,000 in sales, providing an appealing track record for the sharks.
On Shark Tank
Diersing came across as quite poised and confident on Shark Tank, and appropriately so, since he had a legitimate product. In his pitch, he brought out a set of identical twins, and showed one model wearing Rounderbum's undergarments, so that the sharks and the viewers could directly see the potential utility of Rounderbum. Occasionally, when entrepreneurs negotiate with Sharks, they become offended, but Diersing maintained his composure and so was able to get a strong deal from Kevin O'Leary.
After Shark Tank
As Diersing mentioned on the show, Rounderbum opened a new store in West Hollywood. Diersing noted that West Hollywood is a particularly good fit for Rounderbum, because since nearby Beverly Hills is the "cosmetic surgery capital of the world", there may be a strong market for Rounderbum's affordable alternative to plastic surgery.2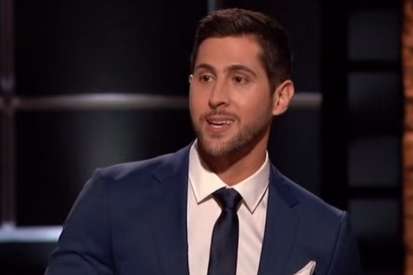 Deal with Kevin O'Leary for $150k for 5% + $2 royalty until $300k