Palmini
Palmini is a pasta substitute created by OA Foods, a company created by Alfonso Tejada. Palmini was featured on Season 9 Episode 24 of Shark Tank. Tejada made a deal with Lori Greiner and Mark Cuban for $300k for a 25% stake.
About the Product
Palmini is a pasta substitute made from "Hearts of Palm", a vegetable harvested from palm trees. Hearts of palm are more nutritious than pasta, and have much fewer carbohydrates than pasta, making it useful for health-conscious people, or people on a low-carbohydrate diet. Hearts of palm is very difficult to work with, so Tejada's innovation was to create a machine which could create Palmini.
OA Foods sells both Palmini and imported quinoa from Bolivia.
On Shark Tank
The product was fairly well-received by the Sharks. Some were a bit perplexed by the idea of a pasta made from a vegetable, but Lori Greiner was enthusiastic, because she had personal experience eating and trying to cook with hearts of palm. Lori and Mark quickly came to a deal with Tejada.
After Shark Tank
As of March 3rd 2018, Tejada was still in negotiations with Lori and Mark, but the show was a big help to sales. He ran out of stock of Palmini within 24 hours of the show airing. Additionally, several big supermarkets (Whole Foods, Walmart, and Wegmans) reached out to him after the show.1
Additionally, as of April 9th 2018, Palmini had reached the 2nd spot in the pasta category on Amazon.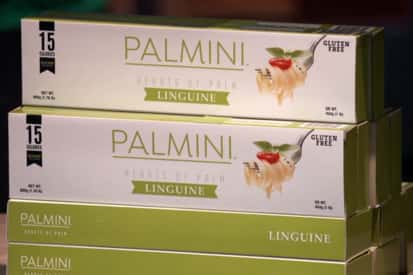 Deal with Lori Greiner and Mark Cuban for $300k for a 25% stake.